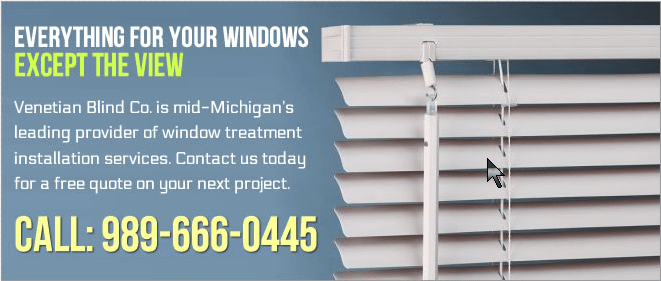 Window Treatment Services by Venetian Blind Co. of Michigan
Venetian Blind Company, LLC — The Window Treatment Professionals
Selecting, measuring, and installing window treatments can be a complicated job; you want your new vertical or venetian blinds to look perfect and that means you need a certified professional. The Venetian Blind Company gives you the ultimate in service: We come to you and let you shop from home, making the entire process easier for you. Choosing new window treatments is easy with the Venetian Blind Company, so sit back and relax while we do all the hard work for you.
We show you the different vertical or venetian blinds options available for you to choose from and clearly explain the pros and cons of each
We find the blind that best fits your needs, the needs of your home, and your budget
We measure your windows perfectly – no matter the size or shape – every time. Precise measurements are essential, so we make sure we do it right.
We plan your project
We do the ordering
We inspect each piece as it comes in and bring the inspected product to your home
We install your vertical or venetian blinds in a timely manner
We provide repair and maintenance whenever you require it
We want you to be happy, and your satisfaction is our number one priority.
Begun in 2006, the Venetian Blind Company, LLC of Michigan has been serving the Michigan area with design, blind manufacture, and installation ever since; we have more than 50 years combined experience installing window treatments. Our Certified Professional Installers direct a trained staff who are committed to bringing you the very best, and we pride ourselves on our excellent customer service. Not only do we guarantee our installations, we also provide repair and maintenance services well beyond manufacturer warranties. Our customers come back to us again and again, and we feel that says volumes about our company.
The Venetian Blind Co. has been providing excellent service to our customers since the very beginning. We can boast that we employ the first Hunter Douglas certified installers in Michigan north of Detroit. This is important because the Hunter Douglas motto coincides directly with our own philosophy: 'Our product is only as good as its installation'. Hunter Douglas certification also requires continuing education for new products so that our installers always stay up to date and knowledgeable. This allows us to bring you the very best in service and that is important to us.
Everything for your windows except the view!
Venetian Blind Company offers quality window treatment options (venetian blinds. vertical blinds, and more) from the following superior companies:
Hunter Douglas
Lafayette
Kirsch
Graber
Woodland
Draper
Our own line of vertical blinds (manufactured from Astra Products, Ltd. parts and materials)
and more!
Not all venetian blind companies are created equal.
Here at Venetian Blind Co., we believe in hard work, integrity, and long lasting quality, and that is what you get when you work with us. That means providing you with the best service – we show up on time, we do the job you hired us for right the first time, and we make sure that you are satisfied at each and every stage of the process. we are professionals, and we conduct ourselves as such. Our knowledge and expertise will give you flawless results.
Before you decide on a do-it-yourself job, call the Venetian Blind Company of Michigan. Let us do all the hard work while you reap all the benefits. Your satisfaction is guaranteed. For more information or for a consultation, call:
Joan Brown – (517) 490-8680
Eric Brown – (989) 666-0445